Summer internships
Interested in an internship as an associate FCA examiner? Excellent!
What our interns do
FCA examiners examine the banks and associations we regulate to make sure they remain safe and sound and comply with the laws and regulations that apply to them.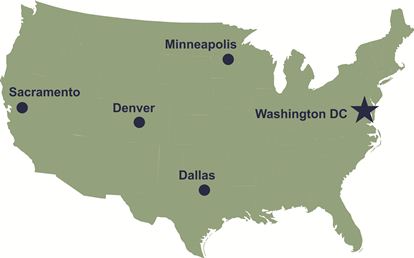 As an FCA intern, you would work from one of our five offices. (See the map for locations.) During your internship, you would travel with a team of examiners to a financial institution to participate in a credit examination and at least one compliance examination. Working with other interns as a group and interacting with staff from the institution you're examining, you would finalize the results of the examination.
To find out what it's like to work as an FCA examiner, meet some of our examiners yourself!
As an FCA intern, you would learn about FCA and the Farm Credit System, the network of cooperative financial institutions that we regulate.

You would learn about important topics in the banking industry, such as commodity concentrations and other factors that may increase risk to an institution. You would learn about actions the board and management can take to manage those exposures. You would also learn about the five credit factors (character, capital, capacity, collateral, and condition) we use to evaluate the risk to which a loan may expose an institution.

And you would have the opportunity to hone critical business skills like these:

How to communicate effectively in person and in writing
How to work in a team environment
How to manage your time so you can complete projects and meet deadlines
Requirements you must meet to qualify for an FCA internship:

Graduate not before August 2022 but not later than June 2023.
Be available to start work by mid-May but no later than mid-June 2022.
Be available to work through at least the first week in August 2022.
Be a U.S. citizen.
Be willing to travel during the week.
Be at least 18 years of age.
Certify that you have registered with the Selective Service System or are exempt from having to do so. (This requirement only applies to males born after December 31, 1959.)
Be enrolled, or accepted for enrollment, as a student in an accredited educational program pursuing a degree in a qualifying field. (See table below.) If you are pursuing a graduate degree, both the undergraduate and the graduate degrees must be in a qualifying field.
Have a cumulative GPA of 2.95 or better on a 4.0 scale

Qualifying Fields
Accounting
Marketing
Banking
Agricultural business
Business administration
Agricultural economics
Commercial or banking law
Agricultural finance
Economics
Animal science
Finance
Dairy science
Note: FCA may also consider other areas of major study directly related to the position.
If you meet the qualifications and you'd like to apply when a job announcement becomes available on the USAJOBS website, take this one all-important step now: Set up a USAJOBS account.

Setting up an account can take a bit of time and the job announcement may be open for only a short time, so you'll want to take this step before the job vacancy is announced. Here's what you do:

Go to Create New Account on the USAJOBS website.
Upload your own resume, or if you haven't established a professional resume, create one using the USAJOBS resume builder. Important: Be sure your degree and month and date of graduation are clearly visible on your resume.
Go to Saved Documents on the left side of the screen.
Upload your most recent unofficial or official transcript. Important: If you are working towards or have a graduate degree, you must include that transcript in addition to your undergraduate transcript.
If you are a veteran, upload the member copy 4 of your DD Form 214, Certificate of Release or Discharge from Active Duty.

How to upload documents to your USAJOBS account:

From the My Account page, click Saved Documents.
Select your application documents stored on your computer to include in your saved documents. Files must be less than 3 MB and must be in one of the following formats: GIF, JPG, JPEG, PNG, RTF, PDF, or Word (DOC or DOCX). Enter a name for each of your documents.
Click Upload. Once a document has been successfully uploaded, you can view or delete it at any time.
Interns receive a starting base annual salary of $37,024. A locality pay adjustment (similar to a cost-of-living adjustment) is added to this amount. The locality pay ranges from 22.37 percent to 32.11 percent of your salary, resulting in a starting salary of $45,306 to $48,912, depending on your office location. Please note that you must receive your paycheck as a direct deposit.

Interns also receive the following benefits:

You will earn four hours of sick leave and four hours of annual (vacation) leave per pay period (every two weeks).
You will be paid for holidays that fall within your regularly scheduled workdays.
You are eligible for a transit subsidy.
You may be eligible for retirement benefits.
You may be eligible for a stipend.

Please note: FCA does not provide housing for interns or living expenses.
At FCA, we are dedicated to ensuring equal opportunity for all applicants. We make all employment decisions without regard to non-merit factors, such as race, color, religion, gender, national origin, age, disability, protected genetic information, sexual orientation, parental status, marital status, or political affiliation. We provide reasonable accommodation to qualified individuals with disabilities.
Page updated: January 17, 2023