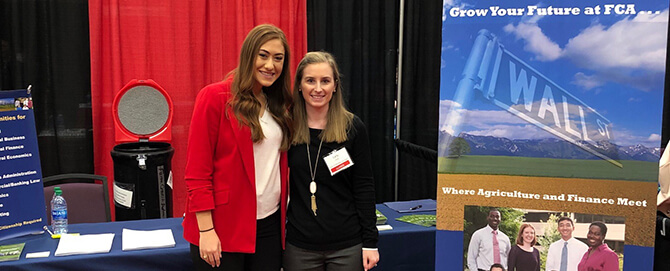 Jobs for recent graduates
Think you'd like to become an associate examiner at FCA? You've come to the right place! Click on a topic below to learn more.
Our examiners examine the financial institutions we regulate to make sure they remain safe and sound and comply with the laws and regulations that apply to them. As part of their jobs, examiners must perform such tasks as the following:

Gather and analyze information provided by institutions, including loan files, policies and procedures, and financial statements
Draw conclusions and discuss with others, including institution management
Document findings and conclusions and draft reports with recommended corrective actions
Attend board meetings to discuss examination findings and other topics

Our examiners are based in five offices. (See the map to the right for locations.) Since the institutions we regulate are located across the country, our examiners spend about 50 percent of their early careers traveling — but rarely over weekends.

To learn what it's like to work as an FCA examiner, meet some of our examiners yourself!
New associate examiners join the agency typically in June. They begin their careers in the Staff Development Division of our Office of Examination, in the FCA Examiner Commissioning Program.

This program combines formal classroom training with on-the-job training assignments. It includes periodic testing and a final test at the end of the program. Upon successful completion of the final test, an associate examiner becomes a commissioned FCA examiner — usually within four to five years of joining the agency.

Some examiners specialize in areas such as bank information technology, capital markets, compliance, and credit. And through continuing education and career development, our examiners expand their knowledge and skills throughout their careers.
To be considered for a position as an associate FCA examiner under the Federal Pathways Recent Graduates Program, you must meet both of the following criteria:

You must have graduated within two years of the date on which you apply for the position.

Note: If, within two years of your graduation date, you were placed on active military duty, your two-year eligibility for this program would be extended for the term of your active service — but not to exceed six years from your graduation date.

By mid June 2022, you must either…
have an undergraduate degree with a GPA of 2.95 or higher in one of the qualifying fields (see table below)
or
have both an undergraduate degree AND a graduate degree in one of the qualifying fields.

Qualifying Fields
Accounting
Marketing
Banking
Agricultural business
Business administration
Agricultural economics
Commercial or banking law
Agricultural finance
Economics
Animal science
Finance
Dairy science
Note: FCA may also consider other areas of major study directly related to the position.

In addition to meeting these two qualifications, you must also be a U.S. citizen.
If you meet the qualifications and you'd like to apply when a job announcement becomes available, take this one all-important step now: Set up a USAJOBS account.

Setting up an account can take a bit of time and the job announcement may be open for only a short time, so you want to take this step before the job vacancy is announced. Here's what you do:

Go to Create New Account on the USAJOBS website.
Upload your professional resume or create a resume using the USAJOBS resume builder (We recommend that you upload your own resume). Important: Be sure your degree and month and date of graduation are clearly visible on your resume.
Go to Saved Documents on the left side of the screen.
Upload your most recent unofficial or official transcript. Important: If you are working towards or have a graduate degree, you must include that transcript in addition to your undergraduate transcript.
If you are a veteran, upload the member copy 4 of your DD-214.

How to upload documents to your USAJOBS account:

From the My Account page, click Saved Documents.
Select your application documents stored on your computer to include in your saved documents. Files must be less than 3 MB and must be in one of the following formats: GIF, JPG, JPEG, PNG, RTF, PDF, or Word (DOC or DOCX). Enter a name for each of your documents.
Click Upload. Once a document has been successfully uploaded, you can view or delete it at any time.
The base starting salary for entry-level examiners at FCA is $52,020. A locality pay adjustment (similar to a cost-of-living adjustment) is added to this amount. The 2023 locality pay ranges from 22.37% to 32.11% of your salary, resulting in a starting salary range of $63,657 to $68,724, depending on your office location.

We also offer generous benefits:

A $10,000 recruitment bonus
A $10,000 student loan repayment
Competitive performance-based salary
13 days of vacation and 13 days of sick leave
11 paid holidays
Flexible work schedules
Hybrid work environment with telework options
Up to 50% weekday travel
Comprehensive on-the-job training
Excellent health, dental, and vision insurance
90% employer contribution toward health insurance premiums
Retirement plans with up to 8% employer contribution
Generous parental leave

For more information, see our Benefits page.
Although weekend travel is rare, this position requires extensive and frequent travel from Monday through Friday. You will usually travel to a bank, association, or financial institution for an examination. While on site, you will work with a team, typically 3 to 10 other examiners. How often you travel and where you go depend on the location of the institution you are assigned to examine. Some institutions are in rural areas, some in metropolitan areas.

We offer mileage reimbursement and full coverage of air and train fees. When you travel more than 50 miles from your official duty location, you are eligible for hotel expenses. While traveling, you will receive a pre-established per diem to cover daily meals and incidental expenses. Our flexible work schedules and holiday schedule reduce the number of days you must travel.
At FCA, we are dedicated to ensuring equal opportunity for all applicants. We make all employment decisions without regard to non-merit factors, such as race, color, religion, gender, national origin, age, disability, protected genetic information, sexual orientation, parental status, marital status, or political affiliation. We provide reasonable accommodation to qualified individuals with disabilities.
Page updated: January 17, 2023