FCA board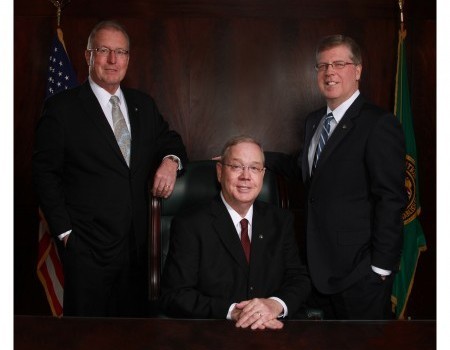 Since 1985, FCA has been governed by a full-time, three-person board, whose members are appointed by the president with the advice and consent of the Senate.
They serve six-year terms and may not be reappointed to succeed themselves after serving full terms or more than three years of previous members' terms. The president designates one member as chairman of the board, who serves until the end of his or her own term. The chairman also serves as FCA's chief executive officer.
What the board does
The FCA board approves the policies, regulations, charters, and enforcement activities that ensure a strong Farm Credit System. The board also provides for the examination and supervision of the FCS, including Farmer Mac, and oversees the FCS Building Association's activities.
View former FCA board members and governors
Dallas P. Tonsager is the board chairman and CEO of the Farm Credit Administration. He was appointed to the Farm Credit Administration board by President Barack Obama on March 13, 2015, for a term that expires May 21, 2020. He was designated chairman and CEO by President Obama on November 22, 2016.

Mr. Tonsager brings to his position on the FCA board extensive experience as an agriculture leader and producer, and a commitment to promoting and implementing innovative development strategies to benefit rural residents and their communities.

Mr. Tonsager served as under secretary for rural development at the U.S. Department of Agriculture (USDA) from 2009 to 2013. In this position, he expanded broadband communication in rural America and implemented other key elements of the Recovery Act for rural America. He dramatically expanded USDA's water and wastewater programs, expanded funding for first- and second-generation biofuels, and funded hospitals and other public facilities in rural America.

In addition, Mr. Tonsager worked with the Farm Credit System and others to set up new venture capital investment funds. From 2010 to 2013, he was a member of the Commodity Credit Corporation board of directors.

From 2004 to 2009, Mr. Tonsager served as a member of the FCA board, as well as a member of the FCSIC board of directors.

From 2002 to 2004, he was the executive director of the South Dakota Value-Added Agriculture Development Center. In this position, he coordinated initiatives to better serve producers interested in developing value-added agricultural projects. Services provided by the center include project facilitation, feasibility studies, business planning, market assessment, technical assistance, and education.

In 1993, he was selected by President William J. Clinton to serve as USDA's state director for rural development in South Dakota. Mr. Tonsager oversaw a diversified portfolio of housing, business, and infrastructure loans in South Dakota. His term ended in February 2001.

A long-time member of the South Dakota Farmers Union, Mr. Tonsager served two terms as president of the organization from 1988 to 1993. During that same period, he was a board member of Green Thumb Inc., a nationwide job training program for senior citizens. In addition, he served on the board of National Farmers Union Insurance from 1989 to 1993, and he was a member of the advisory board of the Commodity Futures Trading Commission from 1990 to 1993.

Mr. Tonsager grew up on a dairy farm near Oldham, South Dakota. For many years, he and his older brother owned Plainview Farm in Oldham, a family farm on which they raised corn, soybeans, wheat, and hay. Mr. Tonsager is a graduate of South Dakota State University where he earned a Bachelor of Science in agriculture in 1976.

Communication from the board chairman and CEO
Jeffery S. Hall was appointed to the FCA board by President Barack Obama on March 17, 2015. Succeeding Leland A. Strom, Mr. Hall will serve a term that expires on October 13, 2018.

Mr. Hall also serves as chairman of the board of directors of the Farm Credit System Insurance Corporation, an independent U.S. government-controlled corporation that insures the timely payment of principal and interest on obligations issued jointly by Farm Credit System banks.

Mr. Hall was president of The Capstone Group, an association management and consulting firm that he co-founded in 2009. He was the state executive director for the U.S. Department of Agriculture's Farm Service Agency in Kentucky from 2001 to 2009. In that role, he had responsibility for farm program and farm loan program delivery and compliance.

From 1994 to 2001, Mr. Hall served as assistant to the dean of the University of Kentucky, College of Agriculture, advising the dean on state and federal legislative activities and managing a statewide economic development initiative called Ag-Project 2000.

Mr. Hall also served as a senior staff member in the office of U.S. Senator Mitch McConnell from 1988 until 1994. During that time, he was the legislative assistant for agriculture, accountable for internal and external issue management.

Before joining Senator McConnell's staff, Mr. Hall served on the staff of the Kentucky Farm Bureau Federation. Over his 30-year career in agriculture, he has held leadership positions in the following nonprofits: the Kentucky Agricultural Council, the Agribusiness Industry Network, the Louisville Agricultural Club, the Kentucky Agricultural Water Quality Authority, and the Governor's Commission on Family Farms.

Mr. Hall was raised on a family farm in southern Indiana, which has been in his family for nearly 200 years. He is currently a partner in the farm with his mother and sister. Mr. Hall received a Bachelor of Science from Purdue University.
Glen R. Smith was appointed to the FCA board by President Donald Trump on Dec. 8, 2017. Mr. Smith will serve a term that expires May 21, 2022.

He also serves as a member of the board of directors of the Farm Credit System Insurance Corporation, which is an independent U.S. government corporation responsible for ensuring the timely payment of principal and interest on insured notes, bonds, debentures, and other obligations issued on behalf of FCS banks.

Mr. Smith is a native of Atlantic, Iowa, where he was raised on a diversified crop and livestock farm. His farm experience started at a very early age, after his father was involved in a disabling farm accident. He graduated from Iowa State University in 1979 with a Bachelor of Science in agricultural business and accepted a position with Doane Agricultural Services as state manager of the company's farm real estate division.

In 1982, Mr. Smith and his wife, Fauzan, moved back to his hometown and started farming and developing his ag service business. Today, their family farm, Smith Generation Farms Inc., has grown to encompass about 2,000 acres devoted to corn, soybeans, hay, and a small beef cow herd.

Mr. Smith is co-owner and founder of Smith Land Service Co., an ag service company that specializes in farm management, land appraisal, and farmland brokerage, serving about 30 Iowa counties. From 2001 to 2016, he was also co-owner and manager of S&K Land Co., an entity involved in the acquisition, improvement, and exchange of Iowa farmland.

Mr. Smith has served on numerous community, church, and professional boards. He was elected to the Atlantic Community School Board of Education on which he served for nine years; during most of this time, he served as either president or vice president.

In 1990, he earned the title of Accredited Rural Appraiser from the American Society of Farm Managers and Rural Appraisers. In 2000, he served as president of the Iowa chapter of that organization. He is a lifelong member of the Farm Bureau, Iowa Corn Growers Association, Iowa Soybean Association, and Iowa Cattlemen's Association.

The Smiths have four grown children and three grandchildren. Three of their children are involved in production agriculture. Their son Peter has assumed managerial responsibilities for both the family farm and business.

Communication from Mr. Smith
Page updated: February 14, 2019