Careers at FCA
The Farm Credit Administration is a great place to work. According to the 2019 Best Places to Work survey by the Partnership for Public Service and the Boston Consulting Group, FCA is ranked as the second best place to work among small agencies in the federal government. For more insight into what our employees think of their workplace, check out their responses to the 2020 Federal Employee Viewpoint Survey (PDF).
FCA allows its employees to use and develop their skills, compensates them well for good work, and recognizes that they do have lives outside the office. At FCA, the work environment is relaxed, but expectations are high. We need people who work hard, work well with others, and like to learn. Our salaries are competitive, and our benefits package will impress you.
Get to know some of our leaders and our employees.
Compensation
Benefits
Internships
Why work at FCA?
Career spotlight
Federal Bank Examiner
Download our brochure to learn about how to become a federal bank examiner.
---
Working at FCA
Employee spotlight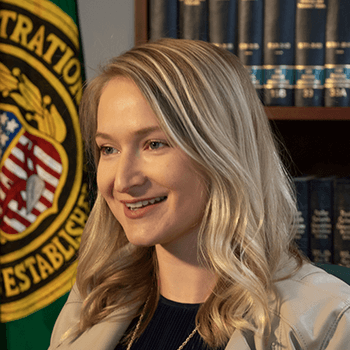 "FCA is just the perfect fit for somebody who's interested in both agriculture and economics."
Tiffany, Examiner, McLean