Meet our employees
Tiffany, Examiner, McLean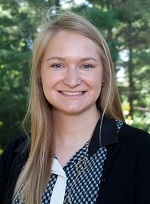 "Sometimes I stop and think, 'This is amazing because two years ago, I wouldn't have been able to do that.'"
Why FCA?
"I started at FCA in June 2015. I just finished my second year, and I'm an associate examiner in the Staff Development Division right now. This fall I'll transition to the Association Examination Division.
"I grew up on a farm in Virginia, so I have an ag background. My dad is a beef cattle farmer with a cow-calf operation. I went to Virginia Tech where I was an agribusiness major. So FCA is a good match for me. I found out about the Farm Credit System and FCA through school. I interned at a System association for two summers when I was in college. I also really liked the idea of traveling because I didn't do a lot of traveling when I was growing up."
First days on the job
"There is a settling-in period. The first week was human resources-type things. People come and introduce themselves. They chat and check in on you, which is really nice.
"Because we have access to customer information — financials, Social Security numbers, bank accounts, credit reports, that type of thing — we need to get a security clearance, similar to a public trust security clearance. That just means filling out forms and having an interview with a background investigator.
"A benefit of working in McLean is that, in the cafeteria and in general in McLean, you see people from different offices. As for the people in the field offices, they come to McLean for their new employee orientation where they meet everyone in their class and learn about the other offices in the agency.
"I'd say the people are probably the best part of working here. The agency, and the Office of Examination specifically, are so small that we all get really close."
Training
"The first couple of months, you're doing training in the office on your own — reading through binders, doing online training, taking quizzes about what you've learned. The first summer after I was hired, I felt like I was going to college or like I was getting paid to learn. All the classes we've taken here are really beneficial.
"We all come in with different backgrounds. I think my biggest shock coming into the job was the diversity of backgrounds. A lot of people come in with finance, accounting, and banking majors. That's been really helpful because, in my class, we all have different experiences that we can bring to the table to help each other learn when we're studying for tests or doing exam work.
"The training definitely gives you an opportunity to learn things you don't know already. No matter what your background, you are going to be missing a piece of the puzzle. I was lacking some of the finance knowledge. But you learn what you need. They train you on everything.
"The classes are spread out through the commissioning program. We also take two big tests — one toward the end of the first year and another toward the end of the second year. Those are knowledge and simulation tests to assess how you're doing so far and if you're where you should be. About two months before the test, we are given an overview of the test — how it's set up, what you can expect.
"I was surprised at how much training we get and how people help with everything. I go to people in the classes ahead of me all the time with questions. That was a surprise — that you can get help from everyone. I was also surprised at how structured the entire program is, the trainings, the tests, and checkpoints along the way. "
Lots of opportunities to hone skills
"Sometimes I stop and think, 'This is amazing because two years ago, I wouldn't have been able to do that.'
"The writing style here is a lot different from what's taught in college, so that has been a big adjustment. The trainers review our work, and we get a lot of help and a lot of feedback. It's a huge learning process.
"We also learn a lot about communicating. We all take two communication courses where we do simulations of situations we might find ourselves in. This was really helpful so we'd know what to expect and be able to prepare to answer questions."
Typical day
"There is not a typical day because you're always assigned to something different. Even loan reviews aren't typical because you get different types of loans that have different nuances because the borrowers are all different, with different commodities. It's a big learning process."
Travel
"I started working here in June 2015, and at the end of August 2015, I began going out to associations and getting on-site training. In-person, classroom-style training started, too. People who work in the Office of Examination give the training — on credit, finance, communication, compliance, as well as other topics. We go to a class in one of our field offices. It's like college with lectures, PowerPoints, classwork, and homework. You study and take a test at the end of each class.
"So far, I've been to Florida, Virginia, Maryland, Pennsylvania, Massachusetts, Connecticut, Vermont, Georgia, Mississippi, Louisiana, Ohio, Minnesota, Texas, Kansas, North Dakota, Colorado, California, and Missouri. When we are on-site, there are lots of things to explore and see.
"Sometimes we have the opportunity to go on farm tours when we go to the associations. In Florida, we went on a tour of a farm that grows sugar cane, which was really interesting because I didn't know how it was grown or harvested. We also went to a large-scale flower nursery. Other associate examiners have recently been to large cattle feedlots and a potato farm in Idaho."
Working on bank examinations
"After the first couple of months of training, we started working on association examinations. At first, we started by going on loan reviews. We work alongside commissioned examiners, specialists, and the examiners-in-charge (EICs). We're doing smaller, less complicated accounts than they are, but the work definitely counts.
"For the first two years, a trainer goes on the exams with you. They review your work, answer your questions, and help you with anything you need because this is your first time looking at loan files. We look at individual borrowers' loans and identify credit risk; we make sure the association has identified credit risks and that they're doing all the correct things for compliance and credit administration.
"We do little bits and pieces of everything and learn about things one at a time. Usually the week after a loan review, you come back to the office and wrap things up. Then you're assigned to other off-site activities. We also work on finance activities, like the quarterly FIRS [Financial Institution Rating System] reports. We are given the opportunity to work on all types of exam work — evaluating management, governance, policies, and compliance with our regulations."
Page updated: November 11, 2019