Meet our employees
Robin, Supervisory Examiner, Denver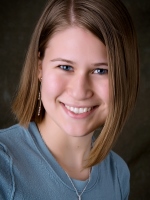 "When you begin working at FCA, you start with a hiring class, and you go through the training together as an entire group. It's a collaborative atmosphere and a great learning experience."
Why FCA?
"I first learned about FCA at an agricultural career fair at Oklahoma State University, where I earned my undergraduate degree in business management and MBA. I was looking for a challenging new job that would allow me to travel. With a lot of employers, traveling was not an option until after a couple of years. I was really excited about the opportunities with FCA so I interviewed the next day. I began working here in June 2008.
"My dad is a part-time farmer in Adair, Oklahoma, with a cow-calf operation and a garden. When I was growing up, I helped with ranch chores. Before FCA, I had no banking background, but I had a number of classes related to financial analysis in college and graduate school.
Training
"The training program for FCA is very thorough. It lasts three to four years and includes formal classroom training, as well as on-the-job training. When you begin working at FCA, you start with a hiring class, and you go through the training together as an entire group. It's a collaborative atmosphere and a great learning experience.
"I started in the Staff Development Division and currently work in the Association Examination Division. I am a supervisory examiner with a portfolio of institutions and examiners.
Current responsibilities
"Project management is essential in this role. As a supervisory examiner, I oversee the examiner-in-charge of an institution and provide input throughout the examination process. I review information from the institution, establish on-going communication with management and the board, and oversee the report writing process. These activities sometimes occur concurrently among multiple associations in my portfolio. Time management is a very important aspect of the job. I need to manage my time and help manage the time of my examiners, as well. There are different expectations for different projects, so a lot of coordination and organization is needed. At the end of the day, it's important that we get a well-developed report out in a reasonable amount of time.
Working on bank examinations
"For on-site work, we typically go out on Monday and come back on Friday. We review loans, interview staff on operational areas, and speak with the institution's management. We ask questions and provide feedback. Throughout the week, we provide management with updates on how the process is going. On Friday, we have a close-out meeting so they understand where we are in the examination process.
"More than anything else, I've improved my verbal and written skills since starting at FCA. We do a lot of writing. Every day, we do some sort of analysis to create a final report of examination for boards and management teams.
"In addition, there are a number of discussions and meetings with institutions' management teams. We also hold exit meetings and formal board presentations to share final examination results. We need to communicate in a persuasive and compelling manner to ensure that the institution understands the Agency's position
Benefits of working at FCA
"Getting to travel and having a good work-life balance are benefits of working at FCA. I think it's unusual to find a job that offers both of these at the same time. My schedule is set well in advance and I travel approximately 25 percent of the time, so once a month I go on-site. I'm only gone during the weekdays, and I'm always back for the weekends to be with my family. When we go on-site as an exam team, we go out socially as a group in the evenings. It's a chance to get to know each other better. It's a nice environment to work in.
"I headed up a scheduling task force a few years ago. The experience was very valuable, and we provided some meaningful recommendations to management. Since FCA is a smaller agency, management is very accessible. In my office, there are only about 45 people, so you can easily speak to management staff if you have any questions or would like to provide input. They have an open-door policy.
"I'm definitely excited about my future at FCA and the different options available. You can develop an emphasis in credit, capital markets, operations, IT and other paths. You have a lot of opportunities to move forward in your career."
Page updated: February 24, 2022