Meet our employees
Patrick, Examiner, Senior Credit Risk Specialist, Bloomington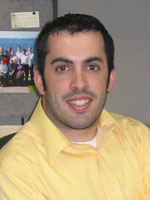 "Probably the best aspect about working for FCA is the staff and team philosophy. There are always staff members available who are willing to help you succeed."
Why FCA?
"FCA was my first job out of Iowa State University, where I earned a B.S. in finance. Growing up in rural Iowa, I worked in my family's shop repairing large farm equipment and also worked for local farmers in the summers and at harvest time. I knew I wanted to go into banking or a related field, so when I attended a career fair at Iowa State and talked to two FCA examiners from the Bloomington office, I felt that FCA was a good fit for me. I started right after graduation in May 2006.
Training
"I initially worked in FCA's Staff Development Division, where I learned the examination function through formal classroom instruction and on-the-job training. After about two years working directly with and receiving valuable guidance from trainers, I began directly assisting an examiner-in-charge in the oversight and examination of one large association. In October 2009, I completed the FCA Commissioning Test and became a commissioned FCA examiner.
Typical day
"The life as an FCA examiner consists of both office days and on-site examinations. During office days, you complete follow-up work from on-site examinations as well as routine oversight examination activities, such as reviewing board minutes, audits, business plans, annual reports, financial statements, and credit reports. The on-site examination work involves reviewing loan files, completing various examination sections, and other examination-related activities. I find the diversity of loans in Farm Credit System institutions very interesting—dairy, swine, beef, renewable fuels, corn, soybeans, cotton, the list goes on. We talk to loan officers about any concerns we have about certain loans and classify the loans according to various credit risk factors. We also need to reach conclusions regarding each examination section we are reviewing and ensure the institution is in compliance with all applicable regulations.
"I've always considered myself a detail-oriented person, but this job really honed my attention to detail. I've also improved my writing—you do a lot of writing—and my communication skills have definitely improved. The job of a bank examiner requires constant communication with colleagues, FCA management, association management, and boards of directors.
Travel
"Before I accepted the job, I thought the travel aspect would be challenging, but it hasn't been an issue for me. The travel is typically scheduled well in advance and I estimate that 40 to 50 percent of my time so far has involved traveling to training sessions or examinations. The locations where you travel are interesting and you get to see different areas of the country while meeting a diverse group of people.
Benefits of working at FCA
"I believe the benefits at FCA are excellent and the agency places significant emphasis on being family-friendly. Work schedules are flexible, and the amount of family sick leave, personal sick leave, annual leave, and holiday leave provides great flexibility to balance work life and family life.
"In addition, FCA promotes continuing education both before and after you become a commissioned examiner. Probably the best aspect about working for FCA is the staff and team philosophy. There are always staff members available who are willing to help you succeed.
"Lastly, working for FCA, an independent federal government agency, provides the satisfaction of public service while helping fulfill the mission of the Farm Credit Administration.
"Overall, FCA has offered me a lot of great opportunities throughout my seven years with the Agency. About a year after becoming commissioned, I was selected to serve as a trainer on the Staff Development Division, training newly hired examiners. After serving two years as a trainer, I was then given the opportunity within FCA's Market Risk Division to examine banks and large associations. Most recently, I was selected into FCA's Credit Risk Specialist Program. Throughout all the transitions, I maintained examiner-in-charge responsibilities of one or more Farm Credit entities. The opportunities provided by FCA are endless if you have a passion for what you do. I believe I have found my career, not just a job."
Page updated: February 24, 2022