Meet our employees
Morgan Littleton, Associate Examiner, McLean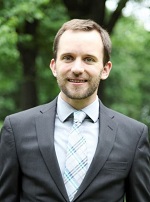 "I was surprised at the world of opportunity here. I've had conversations with people who've been here quite a few years and they say the training and classes never stop. The sky's the limit for an examiner."
Why FCA?
"I'm one of the few people who didn't get introduced to FCA at a career fair. I was unfamiliar with the agency when I saw the ad on USAJOBS, but everything about the position fit the bill so I applied.

"Some of my college professors were involved in the banking industry, and they got me interested in finance, accounting, and auditing. I like getting behind the numbers. I had one professor who was never satisfied with the surface answer, who told us to always dig deeper. I think that background has been a good match for this job. We're also taught at FCA to dig deeper."
Training
"Pretty much as soon as we start, we enter a training program, which is great, because a lot of us don't have ag backgrounds. Within the first week, we had an introduction to FCA and the ag lending world. Once we got the foundations, we took classes on credit, finance, and communication.
"In the communication classes, we learned how to tactfully ask for more information when we're talking with people at the associations. The head of the FCA training program is really big on continuously asking 'why.' We've learned not to be satisfied with the first answer because we might find something more we need to address.
"For ag, the biggest thing I've been exposed to isn't necessarily operations, but the risk farmers and people in the ag industry face, such as weather, disease, or contracts.
"We get to travel all over the country; we don't necessarily focus on a particular region. I think there's a desire to mix it up so we stay current in the different districts, which is great. The districts have different ways of doing business, different systems and processes. It's good to get exposed to all those differences.
"There's a positive level of stress here. The demands aren't so high we can't meet them. There are times when we need guidance, and we have trainers who know what they're doing; they're experts. The training team is fantastic. We have the resources to help us learn the job."
Lots of opportunities to hone skills
"I feel like every week I'm learning something new. That's something I've really enjoyed about this job. It's a continuous learning process even for some of the people who've been here for decades. I think even they would say they're still learning as they adapt to new regulations or work with new people or go to new places.

"I know I've improved in terms of communicating about work-related issues with the association staff. You learn with practice on the job.

"I feel more comfortable doing the job than when I got here — looking at financial statements, knowing how to address regulations, looking for compliance.

"FCA uses a different form of writing from what we're taught in college, and that takes some time to get used to. Here, it's 'get to the point,' whereas in college, you need to write a certain number of pages and words so you can end up embellishing things that aren't important. Here people don't have time for fluff. You need to get to the point and provide valuable content. I've learned how to trim down, provide value to the reader, to just say what's important, and then provide the support. I've also learned how to juggle multiple assignments and to prioritize."
Typical day
"It depends. There have been really busy days where I'm juggling several tasks. Sometimes we do remote exams. I might be doing scheduling or routine paperwork. I might work on projects with a group. Sometimes there'll be an ad hoc project. Right now I'm working with summer interns, providing guidance about what they need to be looking at. At this stage of the training program, we share everything we do with trainers. I need to make sure I get my work to the trainers on time. To sum it up, every day I have to ensure that I'm attending to all of my assignments in a timely manner; I have to make sure my work is prioritized."
Travel
"Time on the road varies. Up to now, there's been a lot more travel in the summer. Last year, I spent 70 nights on the road. The amount of travel changes throughout your career. At the beginning there's more travel. Then, when you become an examiner-in-charge (EIC), there's less travel because you go to fewer associations.

"The travel opportunities really caught my eye. In this job I've seen a lot of the U.S. I've been to a lot of places I might never have gone, like North Dakota, Missouri, and Arkansas. I've also been as far away as California, and as close to home as Maryland. It's truly nationwide."
Commissioning test
"As associate examiners, we're automatically on the examiner track. We take the commissioning test a little more than three years after we start. It's in the back of my mind, but I'm not stressing about it because I know the training program is very structured. When we are taking training courses, we have periodic tests. For example, at the end of the Credit 1 class, there was a test. What we learn in these classes is tested on the two big tests we take — one at the end of year 1 and one at the end of year 2 — called technical evaluations (TEs). The TEs are like progress checks.

"After you pass the commissioning test, you become the EIC of an association. You become the person who makes sure everything that needs to be looked at for the exam of that association gets looked at; you make sure you have a team and you make sure assignments are doled out. You are the point of contact for everything. It's your responsibility to make sure the exam is conducted according to regulations and practices."
Benefits of working at FCA
"FCA definitely puts emphasis on the work-life balance. I appreciate their acknowledgement that everyone has a life outside of work. Also, the pay is good, and the benefits — tangible and intangible — are great. I enjoy the travel and getting to know people outside of the office.

"A lot is expected of us, but we don't have to meet sales numbers like you do in other finance-related careers. Our expectations are high; they're just different from Wall Street's.

"The job is great. I was surprised at the world of opportunity here. I've had conversations with people who've been here quite a few years and they say the training and classes never stop. The sky's the limit for an examiner. Even the interns, to some extent, are on the same career path as the chief examiner. That's amazing and humbling. But it also shows how much opportunity there is in this career."
Page updated: April 29, 2018