Meet our employees
Gina, Examiner, Sacramento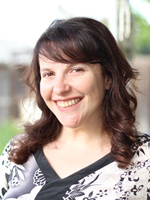 "What we do as examiners is make sure that institutions operate in a safe and sound manner so they are around for the communities they serve…. A lot of times federal employees get a bad rap. It's nice to say we are doing something with a purpose; we are not just there for paperwork."
Why FCA?
"I started at FCA in 2006, right after graduating college. I met with recruiters at a career fair, and it sounded like a job that would fit my background and interests so I applied. I went to the University of California at Davis. My major was managerial economics with an agriculture option.
"I did not have an ag background. In college, I took agriculture classes, such as agricultural economics and agriculture science (livestock, fruit production, winemaking, etc.). I had a class where I worked on the campus dairy, which provided hands-on farming experience.
"I was hired as an associate examiner for the Staff Development Division in the Office of Examination so I was in the pre-commissioning training program for the first three to four years.
Training
"Since getting commissioned in 2010, I have been serving in the Association Examination Division. I'm a generalist, and I have examiner-in-charge responsibilities. FCA has been supportive of continuing education. I received my Certified Internal Auditor (CIA) certification in 2016. I also completed an online master's program in 2014, graduating with an M.S. in management from Colorado State. In addition, I have taken classes and training to further my knowledge in areas like credit, finance, and fraud.
Typical day
"There's no typical workday for an FCA examiner. When you have an exam, you go on-site to an institution. You analyze credit risk in individual loans by evaluating the financial condition and performance as well as collateral position and loan administration. You conduct interviews with loan officers and management.
"Once you get back into the office, you wrap up your work and look at different areas. Say you are doing finance, you're looking at all the institution's income statements, balance sheets and allowance for loan losses. You wrap up everything and send it off to the examiner-in-charge. When I'm in charge of my own exam, I do a lot of other work in the office, including email, reviewing other examiners' work and writing the Report of Examination. So there really isn't a typical day — it just depends where you are in the exam cycle.
Other opportunities: Federal Women's Program
"My term as chair of the Federal Women's Program ended April 1, 2015. I also represented the Federal Women's Program as a Special Emphasis Program (SEP) manager. I held these positions for two years. As a SEP manager, I met with other SEP managers within the Equal Employment Opportunity and Inclusion (EEOI) Department, including the EEOI Director, to discuss what activities our group was doing and any strategies in terms of concerns that people have at the agency.
"Monthly, our Federal Women's Group has its own internal meetings, as well. That's where we do our planning of activities, whether it's a Brown Bag event or a charity drive. We also have discussions to figure out how to make the workplace a better place.
Opportunities to hone skills
"Obviously technical skills are one area that I definitely have learned and improved on. When you come directly from college, you usually don't know a lot about how to do this job so that's why they train you through the pre-commission training program. From day one, you learn what a loan file looks like and how to make a loan. You also learn about credit and financial analysis.
"Organizational skills and project management are key things that I've improved on since becoming an examiner. As an examiner-in-charge, you have to be really organized because you have different moving parts during an exam, whether it's coordinating with an institution's management for your on-site time and getting the information you need, to coordinating all the examiners on your exam team, making sure they know what they need to do and they have the resources they need.
"It has been a challenge to deal with opposing viewpoints. This happens more when dealing with institution boards and management because often we have recommendations that they may not fully agree on, so you have to explain the benefits, the pros and cons of these recommendations, and the reasoning.
Benefits of working at FCA
"I feel like I am doing something useful as an examiner and a federal employee. What we do as examiners is make sure that institutions operate in a safe and sound manner so they are around for the communities they serve. Some of these institutions are in small rural areas so there might not be a lot of choices to get credit. So it's important that these institutions are there for these customers to be served.
"A lot of times federal employees get a bad rap. It's nice to say we are doing something with a purpose; we are not just there for paperwork. There's a true legitimate mission for what we do.
"In terms of tangible benefits, FCA is very keen on developing your skills — whether it's technical, communication, organizational or writing skills. You have the opportunity to continue your development and improve all the time. I think that's something you don't see everywhere so I find that a huge benefit.
"When I travel, I go to some small places with not a lot to do and I also go to bigger cities with lots of fun stuff to do. If you like to travel, it's great. You get to go all across the country.
"There are a lot of good people in our agency and it's really nice to work with people who are fun but also respectful and professional."
Page updated: March 08, 2022