Meet our employees
Deanna, Examiner, Sacramento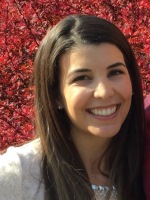 "One of the biggest benefits of working at FCA is that it's a small agency. That allows you to not only make a lot of friends but to see what everyone is working on. You get an idea of where you want to take your career and what projects or assignments you want to get involved with."
Why FCA?
"I went to University of California-Davis, which is a big ag school, and a lot of my classes, even my economics classes, had an ag focus. My parents have a hobby olive farm, and I grew up in a rural area of Northern California. At the Asian Pacific Chamber of Commerce, where I worked before FCA, we had a microloan program for small businesses. I got a lot of experience in how to apply for a loan and helping members get their foot in the door with a microloan program.
"I found out about FCA through the University of California, Davis, career fair. The recruiter sparked my interest in the job because I had studied economics and international relations. I was interested in gaining more of a foundation in finance and the banking world. I started with the agency in June 2009.
Training
"I was first assigned to the Staff Development Division where all of our new examiners start out. It's a really robust training program. They put you through training in credit, finance, compliance, appraisal — really the foundation of everything you need to learn. After you take classes taught by internal staff members, you usually go on-site to different associations for a few weeks and implement what you learned in the training. While you're on the Staff Development Division, which is the first two years with the agency, they send you out in the field with a trainer so you can ask questions. It's still very much a learning environment even though you're actually doing work that gets used by the examiner-in-charge.
Current position
"After two years in the Staff Development Division, I joined the Association Examination Division, where I have been since 2011. I've also had a lot of opportunities to work with associations in our Market Risk Division. So being in one division doesn't necessarily prohibit you from working on some of the larger, more complex institutions in our Market Risk Division. I'm now in the Credit Specialist Program and I hope this opens doors to working with even more complex institutions and different people from all over the agency.
Typical day
"There is no typical workday at FCA. We usually have two- to four-week assignments to a specific institution. Once you get that assignment, you usually start work by traveling to the institution. A typical on-site experience is showing up at the institution with a team of 5 to 10 examiners. You're usually in a board room or other area of the bank working as a team. You meet with the management team and get acquainted with their staff. By working as a team, you can bounce ideas and observations off each other. You usually spend that week gathering and recording information. You take advantage of being able to talk to management while you are on-site.
"After returning to the office, you spend about a week wrapping up assignments you were assigned for that institution you just visited by taking all your notes and coming up with concrete conclusions. We have pretty specific procedures and documentation processes in our program, which help when we write our examination reports.
"Then you'll start to prepare for the next assignment. You are usually working on two to three assignments at once. At the same time, you may be constantly monitoring one institution where you're the examiner-in-charge. It keeps the job interesting.
Lots of opportunities to hone skills
"I definitely have learned a lot about credit and financial analysis after coming on board. I learned credit analysis from the ground up. You touch on some financial analysis in college, but FCA puts you through a detailed training program on financial analysis specific to Farm Credit institutions. I also have learned a lot about the ag economy in general and some of the unique credit risks associated with agriculture.
"I have improved my public speaking and writing skills at FCA. This job allows you to get in front of high-level people — boards and management teams, so you really gain a lot of good experience, especially speaking in somewhat intimidating environments.
Challenges
"It's been challenging to come on board as an entry-level employee without much banking experience in the real world. You sometimes have to deliver somewhat difficult recommendations or corrective actions to bank management teams. Not only is it challenging to go in as a young examiner with limited experience, but even with experience and tenure at the agency it's always somewhat challenging to deliver some of the news or conclusions to bank management teams.
"One of the other challenging things about this job is you have to be a jack-of-all-trades. One week you may be looking at one area, the next week you may dive into something completely different. You have to know FCA's stance on different issues and stay on top of everything that's going on that could impact the association or bank you're visiting.
Benefits of working at FCA
"One of the biggest benefits of working at FCA is that it's a small agency. That allows you to not only make a lot of friends but to see what everyone is working on. You get an idea of where you want to take your career and what projects or assignments you want to get involved with.
"I also think that FCA really invests a lot in the development of all their employees. I've been encouraged to attend trainings. I specifically pick out trainings that interest me and where I want to take my career. FCA has been supportive of sending me, along with many other employees, to banking school.
"I feel FCA really values its employees. They put so much into the initial training program to make sure you're staying interested in the job and you're following your passion. I think that makes for a really positive work environment. One of the things I've found to be a huge benefit is just how much they've invested in me and how much they value me.
"I think FCA provides a good work-life balance even though there's a lot of travel involved. You definitely have to like travel to take the role of examiner, but I think the agency does a lot to compensate for your being on the road.
"Everyone is really supportive of each other at FCA. It's a good team environment."
Page updated: March 08, 2022